The Institute of Finance and Commodity Markets offers during the summerterm a lecture "Capital Market Theory III: Praxismodul Finance". By means of the trading software Financial Trading System (FTS), interactive trading simulations and a virtual portfolio management in real time are performed.
In the scope of the lecture the participants will:
understand real world financial markets,
experience theory and practice of well known portfolio theories,
practical implementation in excel of these strategies,
learn about the dynamics of a trading room,
improve their practical, analytical and conceptual skills, and
learn about the link between the implementation of trading strategies in the market and the preparation of them in Excel.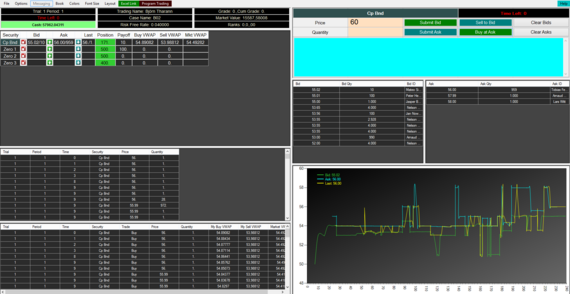 "Some things can only be experienced. One of these is the experience of a live trading floor, where orders are submitted, prices are negotiated, activity is fast paced and competitive, and everyone reacts in real time to the actions of others."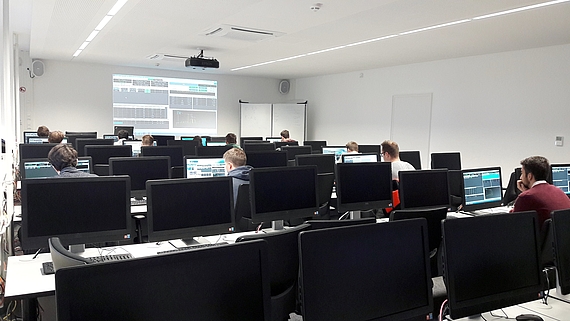 The course is seperated in three blocks, a short lecture on Pratical Portfolio Allocation, a Portfolio Management Case Study and the Trading Room Simulation. Additionally we will have two guest-lecturers in this course.
The block Pratical Portfolio Allocation comprises the following topics:
Basic Portfolio Choice and Implementation in Excel
Advanced Portfolio Choice with Case Study
Active Portfolio Management
Performance Analysis
The block is graded with an exam, that makes up 20% of the total grade of this course.
The block Portfolio Management Case Study requires the students to create their own portfoliostrategy. The strategy is implemented with the FTS-Real Time System tool, that uses real time data. For this block, the students write two written elaborations of two pages each. The first elaboration is due before the strategy is implemented. The second is an evaluation of the implemented strategy. The grade in this block amounts to 40% of the total grade of the course.
In the block Trading Room Simulation we will present the underlying concepts and trade on their basis. Among various trading scenarios we will deal with multiple topics, among them are:
Time Value of Money
Yield Curve
Bond Immunization Theorem
Trinomial Interest Rate Trees
Efficient Market Hypothesis
One- and Two-Period Binomial Option Pricing Model
Delta Hedging
Contrary to the Portfolio Case Management Study, students trade with each otherin a simulation to determine the price endogeneously. Before every trading session the students have to submit their prepared homework, that describes an appropriate strategy for this day. The theoretical background for each trading session is discussed in the prior lecture. The grade in this block amounts to 40% of the total grade of the course.

Lecture times will be announced soon. The course is held in English language.
For further questions, please contact Mr. Seebonn.
M.Sc. Kevin Seebonn
Research Staff

Address
Königsworther Platz 1
30167 Hannover
M.Sc. Kevin Seebonn
Research Staff